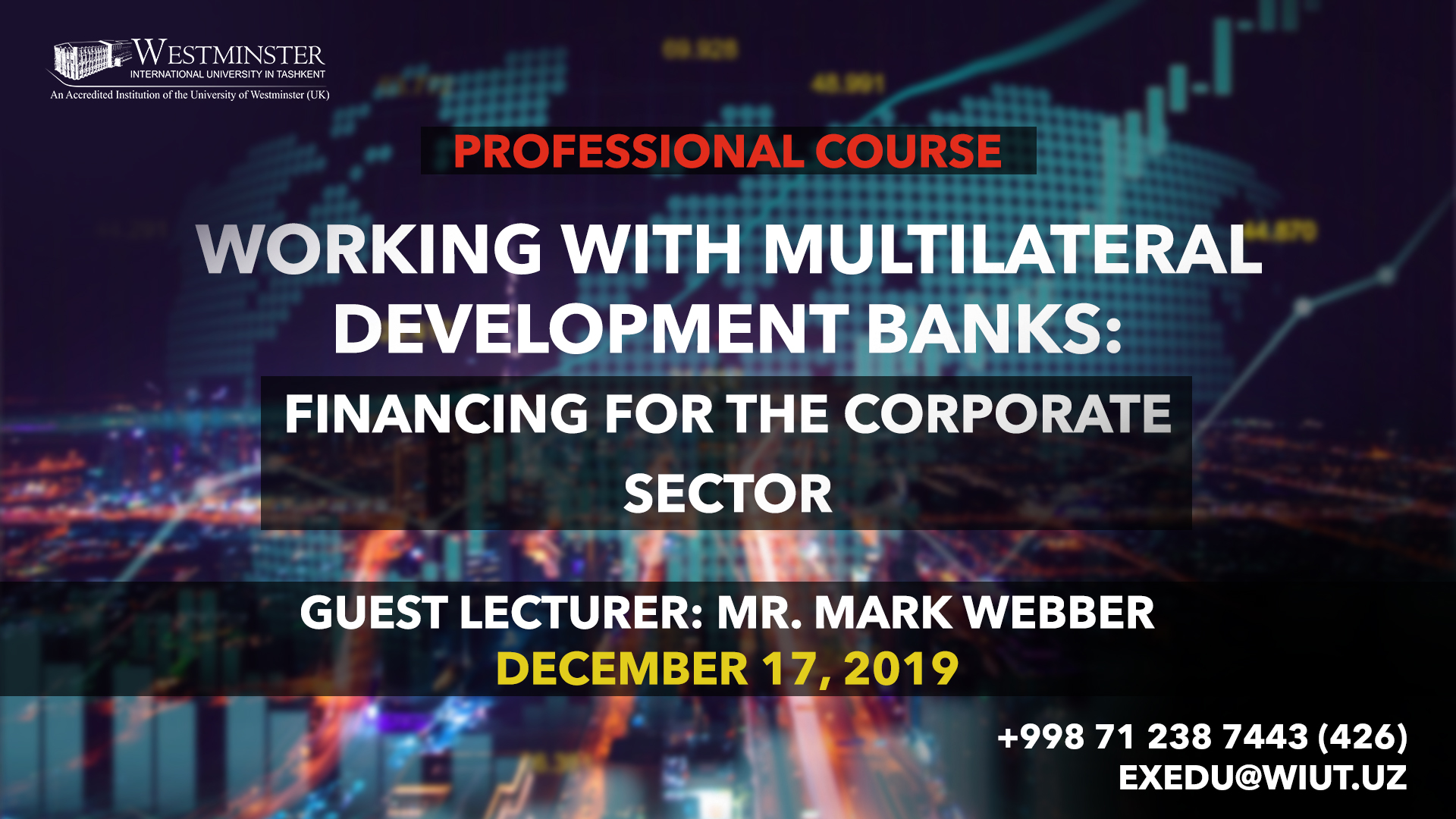 Westminster International University in Tashkent is hosting a "Working with Multilateral Development Banks" Seminar on December 17- 21, 2019. The focus will be on the project investment cycle of MDBs, due diligence demands and financial/non-financial aspects of the MDB investment appraisal and approval process.
This event is aimed at the banking sector, financial institutions, accounting and financial advisory firms and individual consultants interested in working on projects with MDBs such as the World Bank Group/International Finance Corporation, the European Bank for Reconstruction & Development, the Asian Development Bank, and other international financial institutions (IFIs)/MDBs. Participants will learn about financing opportunities with MDBs, hear successful examples and get information needed to improve their effectiveness when pursuing MDB projects or establishing relations with IFIs/MDBs. For banks and financial advisers, there will also be an opportunity to enhance their knowledge of compliance procedures, and to get practical pointers and tips on due diligence competency.
An overview of the role of Multilateral Development Banks (MDBs), their mandate to support private sector companies and how the project investment cycle works. The course will include an introduction to some of the basic financial and non-financial approaches used by MDBs to evaluate projects and to make decisions.
The

financial

approaches will cover some standard aspects of project and transaction analysis, appraisal and execution, and will include due diligence (commercial, financial, legal), risk assessment and mitigation, deal structuring and closing;
The

non-financial

approaches will cover non-commercial (sometimes called "soft") aspects of project analysis that are an integral part of the MDB mandate, and will include economic/transition impact, environmental/energy efficiency/social impact and compliance/integrity/governance.
Lecturer: Mark Webber MA (Oxon), ACA (based in London)
Course Duration: 12 hours
Date: December 17 - 21, 2019
Time: 16:00 - 18:00 (on December 21st - from 10:00 till 14:00)
Language: Training takes place in English language
Course price (per participant): 1 500 000 UZS
Discount available: Two or more participants from one organization
Certificates: Each participant who successfully completes this course will receive a certificate.
Detailed information:
+998 71 2387443
+998 71 2387400 (ext. 426)
exedu@wiut.uz