"Fashion and lifestyle Marketing" is an executive program for entrepreneurs and emerging creatives covering tactics and tools for developing marketing strategies.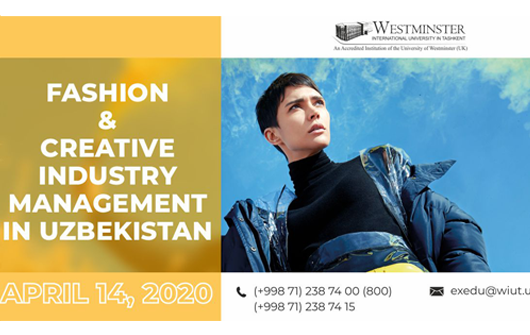 Date of the courses: 14th 15th 16th 20th 21th 22th of April
Time: 16:00 - 19:00
Total hours: 18 hours
Language of instruction: English
Price of the course: 1500000 UZS.
Take advantage of our special offer - "Bring a friend". Bring two friends and get 20% discount for each of you. In order to receive the discount, your friends must fill out the field "By recommendation" on our form.
You will have a chance to experience the most effective brand and retail management tools implemented worldwide and will be able to exercise it in your business practice. Realize your dreams and build a successful fashion brand in Uzbekistan and worldwide with the help of the best experts in this industry.
Meet our course instructors:
Dr. Karan Khurana – Expert & Lecturer - in fashion management and marketing with practice in international projects for the development of the fashion industry.
Anna Vedeneeva - Creative Director of Central Asian Fashion Blog, with over 10 years of international experience as a multi-disciplinary art director, creative producer, and marketing director. Among her projects is a film for the Louvre Museum, and work with brands such as Vivienne Westwood, Moschino, Bikkemberg, Etam, Morgan de toi, Jennifer, Pimkie, US Polo ASSN and many others.
Module aims:
Course that provide all the tools needed to understand the steps of the fashion and lifestyle Marketing process and the role of the entrepreneur inside of a fashion brand.
Recognize and analyse product classifications, the Central Asian marketing environment, consumer market and behaviour.

To understand the anatomy of the Fashion and lifestyle product development.

To exploit the domestic retail markets fully for maximizing the profits.

To identifies the characteristics of the target market.

Examine retailing, wholesaling and pricing strategies

To explore sustainability as a key issue in fashion and textile value chain.
Learning outcomes
Upon completion of the course, participants will be able to:
Compare and contrast the economic, sociological, technological, psychological, and political factors affecting fashion change and adoption.

Evaluate the needs of the consumer and target market

Analyse and implement effective marketing strategies in Uzbek market.

Understand sustainability as a key issue in future of fashion marketing.